Download our 62 point checklist to help you choose your Rebate Management System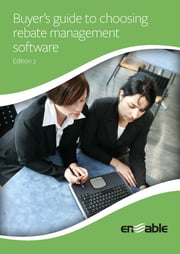 If you're a buying group, wholesaler-distributor or retailer with a large or multi-site business, you probably deal with complex rebate accounting issues.
With more focus on accurate rebate accounting, many people are looking for a Rebate Management System. Our checklist shows you the key features you should look for to:
Take control of rebate earnings, accruals and payments
Gather real-time information for better deal negotiations
Improve margins and fuel growth in market share
Complete the form to download your copy now.